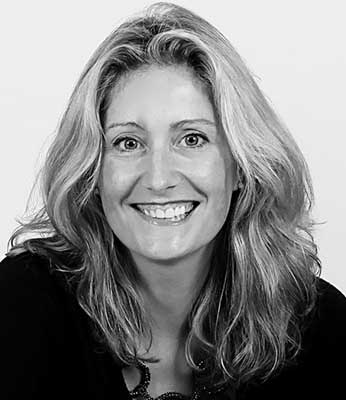 "One of the things that I love about working in interior design is seeing the positive impact that a transformed space can have on the lives of my clients."  – Sarah Watson
I am the founder of Aspect Interior Designs. After living for over a decade in the USA where the business was launched, I returned to the UK with my husband and three children and we now live in Berkhamsted, Hertfordshire.
My early career was in human resources, where I understood the importance of listening to the needs of my clients and working in collaboration with them. I had always been passionate about interiors but it was only when I embarked on my studies at the New York Institute of Art and Design, that I realised a lifelong love and flair for design could grow from a passion into a rewarding profession.
I believe in taking a creative but practical approach to each project. It was important to me to offer a service that is accessible and open to clients on a variety of budgets. And I've maintained my client focused outlook in my work: whilst I provide the direction, the design process works best when my clients are fully partnered with me in the decisions that we are making.
My own aesthetic is clean and simple, with a love of Scandinavian design, but I enjoy mixing a variety of styles and influences with an astute use of colour and texture to create beautiful, unique spaces that "work".
Take a look at my portfolio to get a sense of some of the work I have undertaken recently. I'd love to discuss your project with you in more detail, however big or small.
what people are saying
"Sarah has worked on numerous projects for me with great results. She can transform a room with her creative use of color, shape and texture. Her vision and eye for the possibilities of a room are fantastic. She is a collaborative partner and works hard on providing options for the room. I would highly recommend her work and definitely will be using her again."
J.O.
Stamford, CT; USA
"Not only is Sarah brilliant at what she does, but also is a delight to work with and fun to be around!  We only needed help with a few bits and pieces, but she was invaluable in being the third, neutral voice in the decision making process.  I've never used a designer before but am totally sold on the whole process now."
G.W.
London, England
"Marriage saver! My wife and I had quite different opinions of what we wanted and Sarah not only provided us with a number of great options but she also successfully moderated our differences and created something that worked for both of us. Our living area now looks lovely, as well as being more functional. In addition, what was a difficult landing/loft space to furnish, has become the favorite spot in the house."
R. C.
Stamford, CT; USA
"Working with Sarah means that I can now enjoy decorating our home. She is taking great care to help us uncover our vision without just imposing her own ideas but is very helpful with suggestions when needed. Sarah saves me from drifting, lost around the Internet looking for inspiration by providing a carefully curated shortlist for me to choose from. Importantly, she is also an excellent listener when I just need to vent about the whole renovation process to someone other than my husband!"
R. D.
New York, NY; USA
"Sarah was a true partner, patiently collaborating with me when I had strong ideas and taking control when I needed her to. She knows just where to go to find that perfect accessory and has an uncanny ability to translate ideas to beautiful results. For me, what I enjoyed most about working with her was how available and responsive she was. I always felt like I was her only client".
J.S.
Stamford, CT; USA
"Sarah listened to my ideas, determined our style, and came up with complete solutions for every room in our house. . She thought of every little detail there was to think about. Her quality of service and professionalism was excellent. This was not the first time we worked with a professional designer, but it was the first time that we were so impressed by the designer's great sense of style."
A.S.
Long Island, NY; USA